Description
Winter Studio Workshop
Mondays for a full month
Jan 22, 29, Feb 5, & 12
8:30 am – 12:30 pm
Price $395
Location: Depot Art Center

Steamboat Creates

1001 13th Street
Steamboat Springs, CO 80477
You may arrive after 8:30 and class begins promptly at 9:00 am.
Skill Level: All levels are welcome
Medium: Oil (you will get the most out of this workshop if you use oils, but acrylic, pastels and watercolor are admissible)
I have compiled a list of supplies through Dick Blick Art Supplies, and you will find this list on this page. Please feel free to reach out to me if you have questions about the supply list.
Description:
Studio painting has fundamental techniques and materials that can always be revisited, no matter what skill level or experience you have had. This Winter Studio Workshop is designed to find solutions for the indoor painter. Since painting can feel overwhelming, we will simplify our focus. For this particular workshop, we will focus on values and shapes. If you love color, do not despair! There will be plenty of time to play with colors, within the parameter of lights and darks. Through this process, we will learn how to create dynamic, interesting paintings from life. Be prepared to paint each day. There will be demos, along with in-depth educational materials. This is a short workshop, so we will cover a lot of material. Come ready to paint, learn, and have fun!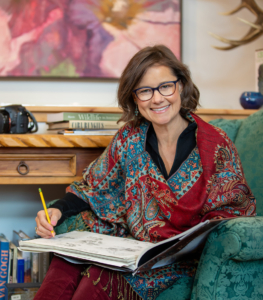 Chula Beauregard earned her Masters in Education in 2005 from Regis University, and taught Fine Art from 2005-2008 at the High School and Middle School level. Since then, she has pursued her professional painting career, showing in the Broadmoor Galleries (Colorado Springs, CO), the Simpson-Gallagher Gallery (Cody, WY), and the R-Diamond Gallery (Steamboat Springs, CO). Though she left behind her public school teaching career, Chula has developed a curriculum for teaching small classes of both adults and children, and she enjoys this educational setting.