I am honored to be included in the 23rd Annual American Impressionist Society National Juried Exhibition. The show is hosted by the Mary Williams Fine Arts Gallery in Boulder, CO, and it will run from Sept 15-Oct 22, 2022.
This painting has special significance to me, and I'd like to share the story of "Home" here with you.
In June 2021, my family and I decided to see Mesa Verde, located between Cortez and Durango in Southwest, CO. Looking at the map from Steamboat, one might say, "you can't get there from here." There is no straight line, but we decided to make the journey. What I discovered on our trip will have a lasting impact on how I see my home and how I live here. The lesson I learned exposed my ignorance, and it may seem incredulous to some readers that I didn't already realize these facts. Nevertheless, I will relate my experience.
The last time I had been to Mesa Verde, I was a 6th grade student, honored to have been chosen for the annual week-long Middle School trip to Crow Canyon. This was a hands-on archeological field trip, and we dug in the ruins of Crow Canyon, learned how to throw the atlatl, and listened to the Beastie Boys on the long bus ride. It was an epic trip, and it cemented my interest in ancient cultures. As part of my bid to go, I created a presentation on a topic about whom we then called the "Anasazi." I was fascinated by, and shared, how they created a calendar in a cave based on the sun rays hitting the opposite cave wall at different times of the year. One fact we were told about these ancient people stuck out to me. While we studied the ruins and the clues in 1986, it was repeated over and over: "we don't know where the Anasazi went. They disappeared. It's one of the West's greatest mysteries." Loving Nancy Drew books at the time, this made my trip to Crow Canyon even more intriguing.
Fast-forward to our trip last year, and I was visiting Mesa Verde as a mom. I want my kids to understand our world, so I reached out to my friend and incredible painter, John Potter. He had been tasked with being an educator of his Ojibwe culture, and he recommended the book, "Everything You Wanted to Know about Indians but Were Afraid to Ask," by Anton Treuer, an Ojibwe scholar. This book, intended for the Young Adult, was enlightening for all of us. We listened to chapter after chapter as Treuer read his book to us, with light humor and heavy truths.
Perhaps it was this excellent audiobook, or the fantastic National Park Rangers, but it dawned on me like a shaft of light: The "Anasazi" did not disappear. They moved several miles away. They left their masterpieces of Mesa Verde, but they are still tied to that land, as one would forever hold Grandmother's house in the heart. These ancient peoples are now more appropriately called the Ancestral Puebloans. The big "Mystery" that we were sold and bought enabled White People to move in and take what we wanted from their homes. This small detail changes the whole story.
This revelation, accompanied by many other discoveries in Anton Treuer's book, led me to question so many things I had been taught. Growing up White in Colorado, pioneers are idolized. I, myself, come from a pioneer family. What world did they arrive into? We are finding out more every day about the First People of America: the fact that they may have been here more than 30,000 years ago; Click here for the latest article on this fascinating expose; or that there were more than 60 million people living in North America before the Europeans arrived. Click here for that study. These revelations of population and duration shed new light on the context into which my family arrived, and on the 600,000 Native Americans that were living in the United States at the time. What other truths exist that shift the entire narrative?
In the "National Park" of Mesa Verde, we entered these ancient homes of the Ancestral (and contemporary) Puebloans. I began to step into the display spaces as I would enter my own grandparent's living room. I had deference and respect in my heart for all they had accomplished.
My painting, "Home" is titled and painted with this reverence. It was an honor to stand in these places. Living in the West, now I look around and see someone's home everywhere I ramble. I do not have the power to undo what has been done, but I can step forward knowing that the lies I was taught do not serve me. I can do my feeble best to represent my experience in this beautiful country, and I can only hope to have the courage to search for the truth.
If you'd like to learn more about the enduring connection between the Ancestral Puebloans and the Pueblo tribes that exist today in New Mexico, Arizona and Texas, check out this podcast featuring storyteller and Puebloan, NPS ranger, T.J. Atsye. Click here for that link.
Resources:
The Podcast we listened to in the park:
https://www.nps.gov/podcasts/podcasts-mtl-audiotour.htm
An article in 5280:
The Audiobook we loved: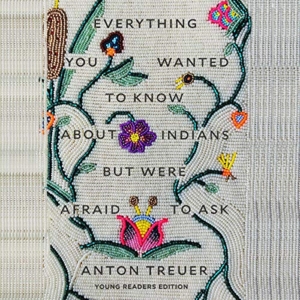 https://www.audible.com/pd/Everything-You-Wanted-to-Know-About-Indians-but-Were-Afraid-to-Ask-Young-Readers-Edition-Audiobook/1662069286?plink=XJ1D0Q85TE1tRn9B&ref=a_pd_Everyt_c5_adblp13npsbx_1_2&pf_rd_p=c09b9598-fc4b-4bcd-829c-1bd478ce94d5&pf_rd_r=1NZCB7EJNJPPZN7S2NX9
Publisher's synopsis: From the acclaimed Ojibwe author and professor Anton Treuer comes an essential book of questions and answers for Native and non-Native young readers alike. Ranging from "Why is there such a fuss about non-native people wearing Indian costumes for Halloween?" to "Why is it called a 'traditional Indian fry bread taco'?" to "What's it like for natives who don't look native?" to "Why are Indians so often imagined rather than understood?", and beyond, Everything You Wanted to Know About Indians But Were Afraid to Ask (Young Readers Edition) does exactly what its title says for young readers, in a style consistently thoughtful, personal, and engaging.